Sunday, May 1, 2011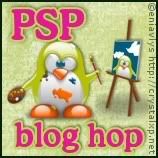 This is a huge community-wide blog hop event created for the PSP Community, with a ton of prizes you can win.
Sponsors such as myself have offered up prizes for you to win, you just have to fill out the
Prize Entry Form
, then check out all the prizes offered by the Sponsors, click on their links, and follow what they require to enter to win that prize
Here is the link to my page on the blog hop site
For those of you wishing to participate and register to win the awesome prizes that are arriving daily, You must complete a
Prize Entry Form
before you can be eligible to win any of the sponsored gifts.
Prize Entry Forms can be submitted up until 11:59 p.m. May 8, 2011 (eastern standard time) - just look for the official time clock in the sidebar. Please remember that you must complete all requirements to be eligible. If the sponsor requests that you follow via Google Friend Connect, Twitter, Facebook and leave a comment for them on the prize post - you must do all four (4) requirements to be eligible - so please read each prize post carefully. They are all unique!!!!
Everyone is allowed to enter to win prizes!!! Sponsors can sign up to win prizes from other sponsors - artists can sign up to win prizes from other artists - everyone can win!