Thursday, May 19, 2011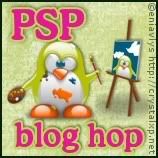 CONGRATULATIONS to all of the participants and winners of the first official PSP Blog Hop! This was SO much fun I think, and it brought so many people together whom otherwise would not have been. I know I thoroughly enjoyed myself, and was happy to donate a prize to this amazing event! That being said, I wanted to announce the winner of my prize personally here so that congratulations could be received!
The winner
Drum roll please.............
CARMIN!!
This lovely lady has been notified and received her prize via email. I hope you enjoy it Carmin!
The next official blog hop has been scheduled for:
• May 7, 2012 to May 14, 2012 •
Thank you so much to all the participants again, this was a blast, see you next year!